English Country Dance: Live in Lawrence!
Next English Dances:
In Lawrence: Sunday, December 29, 2012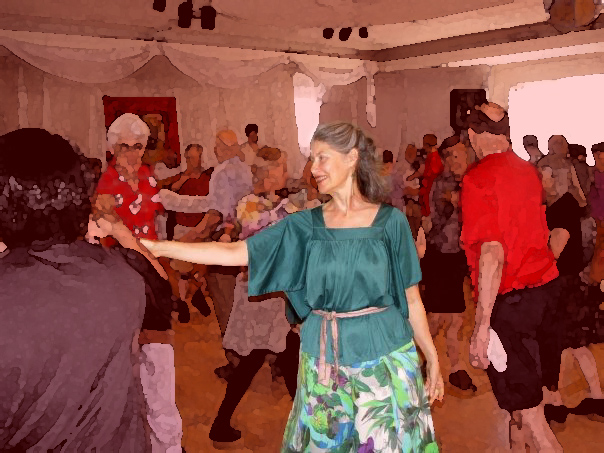 Photo copyright 2009 Jim Kazakoff, used with permission.
English Country Dance is often flirty, often stately, sometimes fast and furious and occasionally just silly. We always strive to keep it fun.
English Country Dance is most familiar from period movies such as Pride & Prejudice, but it is still being danced today, and new dances are being written to join a tradition stretching back before the 1690s.
The Regency Guild
& Lawrence English Dance
invite you to a…
~~ Christmas Ball ~~
From 4:00 - 8:00 p.m. in the Evening on
Sunday, the Twenty-Ninth Day of December,
the Fifth Day of Christmas
in the Year of Our Lord Two Thousand Thirteen
(Sunday, December 29, 2012)
Heritage Room of the Carnegie Building,
200 West Ninth Street,
Lawrence, Kansas, 66044
Featuring Live Music:
Mr. Greg Allen, Red House, and Friends
Caller's Potpourri
Cost: $10 adults, $7 students
(children under 12 free; $25 family cap)
Potluck hor d'oeuvres or light dinner dish
Formal dress, as you wish
"Christmas is a season for kindling the fire of hospitality in the hall,
the genial flame of charity in the heart." – Washington Irving
Question: Is there a dress code for the Ball?
Answer: We encourage you to dress up for this event. Some dancers choose Regency dress, others choose festive modern attire. All are welcome.
Question: Is there a printable flier?
Answer: Why, yes, it lives right here.
English Dance in Lawrence
Future English in Lawrence for Your Calendar...
~~~~~~~~~~~~~~~~~~~~~~~~~~~~
Our Dance History
Here is a mostly accurate listing of all the dances we've done over the past three-plus years. If you have a favorite dance, feel free to request it by contacting one of the callers.
We began in Jill's living room in January 2009 and outgrew it that day. We moved to a hall just north of South Park on Massachusetts. In 2011 we moved briefly to Signs of Life Bookstore, then to the Unitarian Fellowship. And in 2012 we moved again, due to our growing attendance, to the second-floor ballroom of the Douglas County Senior Center.
Directions to our Dance
Directions to our usual location: The Douglas County Senior Center is located at 745 Vermont St in Lawrence, just south of the new parking building near the library. The dance hall is located on the second floor. The building enterance is on the east, facing Vermont. There is plenty of parking in the lot north of the building or on any of the surrounding streets. You do NOT have to feed the meters on Sundays.
NOTE: The Christmas Ball is not at our usual location, but rather about a block south of that, at the Carnegie Building, 200 W. 9th. St., Lawrence, KS.
A note to new dancers:
Many English Country Dances are relatively easy, but some figures require the ability to negotiate patterns without direct physical help from a partner or neighbor. Most people can learn these patterns without much difficulty -- your learning curve may seem steep at first but fellow dancers are very friendly and patient. You may soon find yourself hooked by the achingly beautiful music, the elegant movements and the interaction with smiling people.
No partner is required. Wear comfortable clothes and clean shoes.
We hold a new dancer workshop/orientation at 1:30 pm, and dance from 2:00 - 4:30. All dances are taught and prompted.
If you have ever visited a foreign country, you may have experienced a slight disorientation mixed with a growing sense of wonder and joy. We now welcome you to a new foreign experience: English Country Dance.
Some basic English figures explained.
Just the Facts, Ma'am
Sundays after the third Saturday of the month, with occasional exceptions
English Country Dance & Tea series
Dance 2:00 - 4:30 pm
Basics of English workshop 1:30 pm

Or style tips if all present are familiar with Basics

Admission $6.00 / $3.00 students
Please bring a snack to share
Contact Jill Allen at 785-841-5759 for more info
Related Dancing in the Region
Scottish Country Dance is happening in Kansas City. This is a cousin of English Country Dance and worth a visit.
Second and Fourth Fridays: 7:00 pm at Willow Creek Friends Church 9700 Wornall Road.
Cost is free will donation.
For more info: Phone David Bailey at 913-384-3314, or email David.
Directions to Willow Creek Friends Church:
Take I-435 to the Wornal exit and north on Wornall to 97th Street. The church (on the Southwest corner) looks like a house. There is a lighted sign in the front yard. Parking is in the back (off of 97th Street).
English Dance in Kansas City. This is organized by one of our regular dancers, Martine Rousel. See http://kcenglishdance.weebly.com/ for details.